Small Business Saturday Crystal Launch
Testimonials
Chelsea has THE CUTEST clothes! Not only is her customer service amazing but she has great clothes at super affordable prices.

Cassie W.
I had never purchased from Chelsea but always saw such adorable items posted and friends buying.. one day I couldn't resist! I purchased a rose sweater and it was literally perfect! I received the shirt literally two days after ordering-QUICKER THAN AMAZON GETS HERE!! And Chelsea was so sweet helping me through sizing, etc. Def. recommend to anyone looking for stylish things to check out Chelsea's collections! You won't be disappointed.

Jenna K.
I have bought a few tops from Chelsea. She is the best. Chelsea is so helpful and her clothes are amazing. I have bought clothes from other people and now I only get my clothes from Chelsea

Diana C.
Let customers speak for us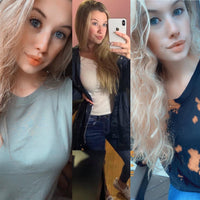 about the owner
For starters - I just want to say THANK YOU. Thank you for shopping small & supporting this small business. I'm Chelsea! I can't wait to get to know you & your personal style! I've been obsessed with clothes for forever & have been the "go-to" shopping friend for as long as I can remember!
One of my favorite things about having my own boutique is being able to help you find confidence that you didn't even know you had. Help you find *THAT* item that you never want to take off.
Amidst this whole pandemic we've got going on, the store I was working at closed in March with the intent to reopen..... buuuut it didn't. After months of sitting, doing nothing & getting pretty damn discouraged about it, I thought WHY NOT open my own store? I love clothes & I love helping people feel confident. Bringing you a little bit of me in every piece.♥
Love Chelsea, xxoo
how i chose the name
My Mema suddenly passed September 2019. She was, is, & forever will be my favorite person ever. She had the biggest heart, the best laugh, & no matter who you were - she was gonna tell you EXACTLY how it is! Sometimes with grief it's easier to pretend like it isn't happening. In my head, she's still just sitting on her couch, watching her shows, making the best damn cakes I've ever had, & yelling at my Papa (for literally anything, LOL). I know she's with me every day, but as with anyone who has dealt with this before - knows it just isn't the same. Every now and then when I look back at photos and cards, I always notice she would always sign my cards "love ya lots Mema & Papa xx oo xx".
So, this one is for you Mema♥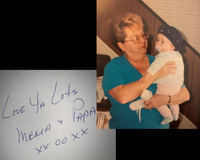 "Always remember you are braver than you believe, stronger than you seem, smarter than you think and twice as beautiful as you've ever imagined."
– Dr. Seuss