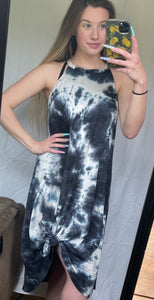 Mid to maxi length tiedye dress featuring a higher neckline and small keyhole back detailing.
perfect to dress up or down
if you love tie-die, you're gonna love this dress. You can dress this up with shiny sandals and jewelry or dress down. The fabric is super soft, so you can be dressed up while feeling like you're wearing pajamas. This piece will get a lot of wear.
A strapless bra is required though unless you wear a jacket that you won't take off.